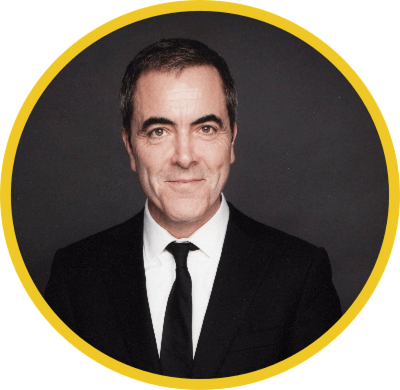 Born and raised in Northern Ireland, James Nesbitt followed the advice of his school teacher and attended drama school in London. Starting his career on stage, he has appeared in numerous plays including Paddywack, Translations, As You Like It, Philadelphia Here I Come, and Can't Pay, Won't Pay and most recently Shoot The Crow in the West End.
His first major TV roles included Ballykissangel and Playing The Field but it was playing Adam in the BAFTA award winning Cold Feet that brought him to the attention of a wider audience. This critically-acclaimed drama won James a British Comedy Award in 2000 and a UK National Television Award in 2003.
His range of TV roles since then has included the title role of Tommy Murphy in Murphy's Law. This was specially written for James by writer Colin Bateman. The first season aired in 2001 and the fifth series aired in 2007.
In 2002, he played the leading role in the film Bloody Sunday which won him a BAFTA nomination and Best Actor award at the British Independent Film Awards and the Stockholm Film Festival. The film itself won a Golden Berlin Bear at the Berlin International Film Festival.
In 2003 BBC Drama produced a modern re-working of Chaucer's Canterbury Tales with James playing the main lead, Nick in The Miller's Tale – airing on BBC AMERICA in January 2005.
In early 2004 he played the lead in Passer By – a drama directed by David Morrisey (State of Play) and written by Tony Marchant (Canterbury Tales, Crime & Punishment)
In 2007 he starred in the critically acclaimed BBC series Jekyll which gained him a Golden Globe nomination for Best Performance by an Actor in a Mini-Series or Motion Picture made for Television, and a Rose D'Or nomination for Best Actor.
James worked on his first film, Hear My Song in the early 1990s. He then worked extensively with director Michael Winterbottom on the films Jude (1996) and Welcome To Sarajevo (1997). He gained wider recognition in the film Waking Ned Devine (1998), playing the lovable pig farmer, Pig Finn. He starred in Danny Boyle's movie Millions, and featured in Woody Allen's Match Point.
In 2008 he played Pontius Pilate in BBC 1's The Passion and starred in Midnight Man for ITV1. In 2009 James starred in BBC Films' Five Minutes of Heaven and BAFTA award winning Occupation for BBC1, as well as co-starring with Martin Sheen as an Irish writer who joins a bereaved father undertaking a pilgrimage in Emilio Estevez's The Way, released in 2011.
2010 saw James appear in the TV mini-series The Deep and the film Matching Jack. He also filmed Coriolanus alongside Ralph Fiennes and Gerard Butler. James played Bofur in the epic Hobbit Trilogy directed by Peter Jackson as well as starring in Monroe, a drama series for ITV 1 written by Peter Bowker.
James has hosted the British Independent Film Awards (BIFA) for the past six years. He has hosted the Irish Film and Television Awards twice, the Empire Awards and last year he hosted the star studded GQ Awards for the second time.
In 2012, James filmed James Nesbitt's Ireland, an eight-part travelogue series for ITV1 and following that, James Nesbitt's New Zealand, a follow up documentary where he travelled the length of the North and South Islands, immersing himself in New Zealand life. This aired on ITV1 on Christmas Day 2013.
James most recently starred in the critically acclaimed drama series The Missing for BBC1 and Starz Network in the US as well as starring in Stan Lee's Lucky Man for Sky. He rejoined Cold Feet for a triumphant return to ITV after 13 years in September 2016.